Single Stage Battery Cutting Machine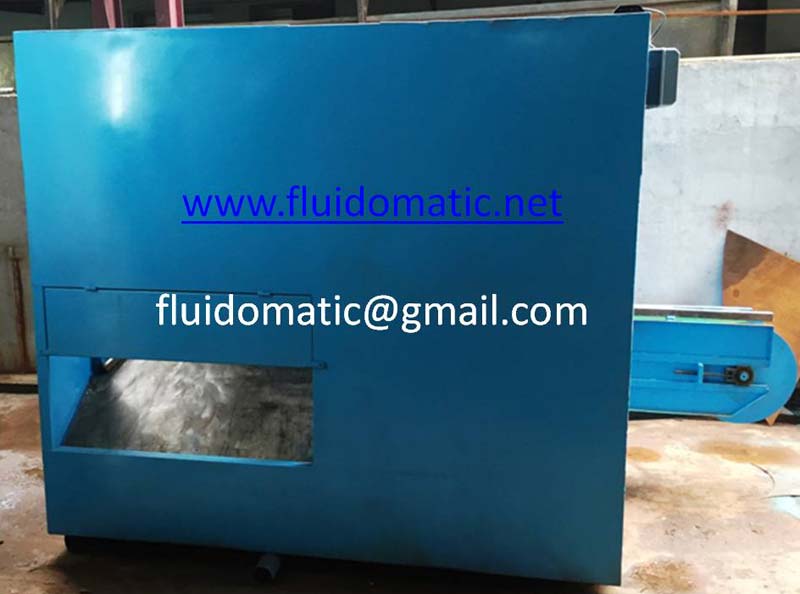 | | |
| --- | --- |
| Business Type | Manufacturer, Exporter, Supplier, Retailer, Wholesaler |
The Single Stage Battery Cutting Machine, which we offer, is known for its sturdy make and long-life. We offer the Single Stage Battery Cutting Machine at the market leading to the clients. Low maintenance cost and ease-of-installation are the high points of these Single Stage Battery Cutting Machines.

Construction : This machine has an automatic conveyor. Battery is placed on the conveyor. Width of Battery, need not to be set. It can accommodate Battery up to Max. Width of 305mm. Most of Batteries are below this. Cutting height can be set by turning Rotary wheel. This wheel is visible in picture of machine. Scale is provided to set the height of cutting from bottom. Conveyor takes the Battery in machine for cutting. During Cutting of Battery dust is confined inside of covers because cutter is enclosed.

Operation : Normally Cutting is set at sealing line of lid. Max. of Automotive Batteries have approximately same height, say +-10 mm. Remaining Battery will come out of machine on Conveyor. This saves exposure of workman from Lead Dust; increases efficiency of organization reduces lead time as well as increases liquidity of Funds. Plastic Containers can be sent for immediate disposal/recycling facility. Lead Dust is confined inside enclosure at the same time water jets are provided by pre-fitted Pump. Water is collected in the bottom tank. This helps to separate Plastic Dust from Lead dust. Plastic dust floats and lead dust is precipitated at the bottom. Hence, it becomes environmentally Sound Method to cut the Battery for further separation. Remember this Cut Battery can directly go to another attachment; we call it Acid Draining.
We, hailing from Noida (Uttar Pradesh, India), are the credible Manufacturer, Supplier and Exporter of the best-in-class Single Stage Battery Cutting Machines worldwide. Engineered in compliance with the industry-stated standards, the Battery Slicer (Single Station) is acclaimed for its innovative designing and never-failing function. The durability is lifted up by using graded material in the fabrication. Available in diverse specifications, these Machines are nominally priced by us.
Specifications :
Out Put Capacity : Two to Two and Half Ton/ Hour.
Power Requirement : 6 Kw, 440 Volt, 3 Phases, 50 Hz.
Man Power Requirement : Two no. unskilled Labor
Operational Expenses for battery Breaking per ton : $ 1.75/ Ton approx
Description :
This Machine has One Conveyor, One Cutting Stations with one Bend Saw Blade. Conveyor is used to feed the batteries into machine and Cuts off batteries at required height, as set by the operator. Blade is water cooled. After Cutting operation, Cut batteries are transported out of the machine by conveyor. Cut (Sliced Off) Top of battery is ejected out automatically.
Maximum Height of batteries can be fed to the machine is 600mm and width being 305mm.
Fume are collected and restricted by the Enclosed Body of Machine. No human exposure is involved in Cutting operation.
Exposure of acid fumes and lead meet best environmental practices in the world
No. Adjustment of Width is required.
Operation of Machine :
Batteries are placed on the moving conveyor. Top of Batteries is sliced off by high Speed Bend Saw. There is one Bend Saw with height adjustment to set Cutting (Slicing) Height. Height is set manually.
Output of Machine is one Slice of Battery Top and Remaining part of Battery. Acid Drained out in to Acid tank.
Size of Machine : 2200 mm (H) X 2200 mm (B) X 3650 mm (L) Approx.
Read More...
Looking for "
Single Stage Battery Cutting Machine

" ?